Alexi Tucker Art Show review (and winners, too)
Hang on for a minute...we're trying to find some more stories you might like.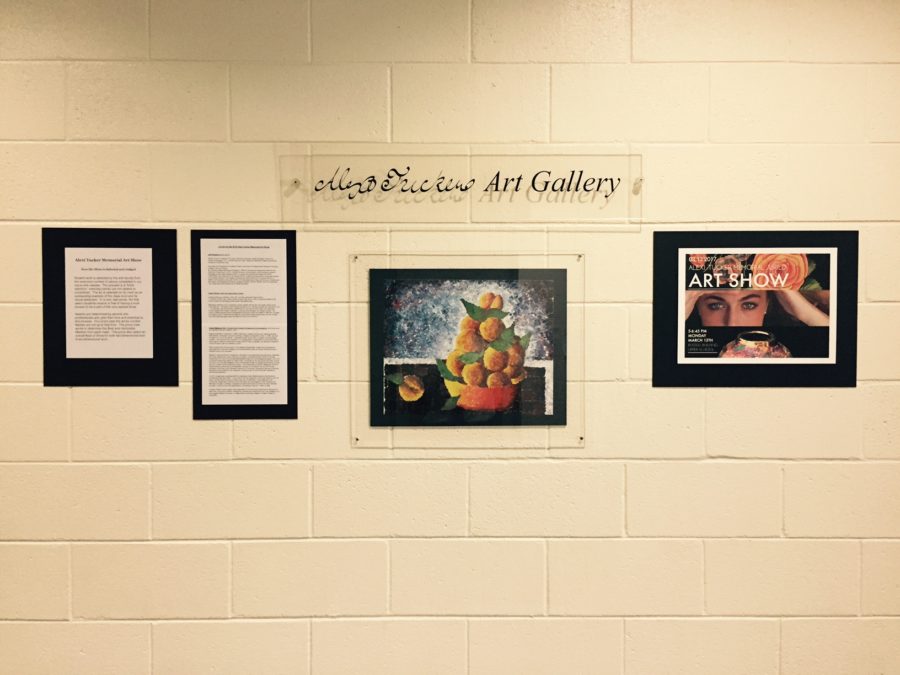 On Monday, March 13th, Saint Stephen's held the opening ceremony of their 19th annual Alexi Tucker Memorial Art Show in the Russell Building of the upper school. With hours of work during and outside school, Ms. Johnson and Ms. Grady put together the art show in a matter of weeks. Every year, art students enter a variety of work, ranging from ceramic pieces to photographs. Each student puts in three interims of hard work in order to produce the countless pieces that are displayed in the Alexi Tucker Gallery.
The gallery and show were named after a former SSES student Alexi Tucker, an adept art student who attended Saint Stephen's until 1997, when she sadly passed away in a fatal car accident. Her family contributes to the gallery and also helps the yearly art shows. In her remembrance, this art show serves to remind the Saint Stephen's community to remember the arts department and all of its strong work. This year the art show was a success yet again. With countless parents, friends and students attending, the art show was filled with crowd favorites and the proud work of an array of students. This year, the following students received awards:
Best of Show 2-D
# 101 Jack Sauerbeck
Best of Show 3 -D
# 443 Alexa Baroncelli
Gordon Langeneger Award 2017
Alana Shukovsky
National Art Honor Society 2017
Baylee Barker
Letherio Jones
Mattison Harllee
Lily Meaker
Charlie Price
Logan Reliford
Kristina Schmidt
Emily Tobias
Tanner Wade
Matthew Willard
Visual Arts Conservatory Distinction Candidates 2017
Alexa Baroncelli
Beatrice Brunschwiler
Trevor Donnelly
Dasha Fomina
Letherio Jones
Jindriska Krejci
Qing Qing Liu
Megan Rourke
Alana Shukovsky
Kristyn Weaver
Julia Woodson
Director's Awards
2-D works
# 159 YuQing Liu
# 52 Charlie Price
# 79 Jessie Williams
# 130 Nicole Breiter
3-D works
# 243 YuQing Liu
# 447 Alexa Baroncelli
# 465 Lily Meaker
# 433 Kristina Schmidt
Fundamentals – Art 1
HM # 27 Emily Tobias
HM # 36 Salina Yathiraj
Best # 22 Katie Lin
Photography 1
HM – # 90 Cameron LeMay
HM # 95 Rena Parent
Best # 75 Rena Parent
Ceramics 1
HM # 320 Ema Viackova
HM # 296 Ema Viackova
Best # 257 Alexandra Howe
Art 2 and Art 3 Honors
HM # 64 Tanner Wade
HM # 61 Tanner Wade
Best # 55 Jindriska Krejci
Advanced Photography Honors
HM # 115 Jackson Sauerbeck
HM # 119 Dawson Hamilton
Best # 116 Jack Zhang
Advanced Ceramics Honors
HM#413 Matthew Willard
HM # 442 Alexa Baroncelli
Best # 443 Alexa Baroncelli
Ceramics 3 Honors and Advanced Placement 3-D Design Ceramics
HM # 541 Dasha Fomina
HM # 561 Letherio Jones
Best # 550 Dasha Fomina
AP Studio Art 2-D Design
HM # 174 Kristyn Weaver
HM # 154 Kristyn Weaver
Best # 169 Alana Shukovsky
To all those who won this year, congratulations. The show was truly spectacular with only the best from Saint Stephen's students. With grades 9-12 on display, everything from photography to ceramics can be seen in the Alexi Tucker Gallery. A special thanks to the Tucker family for their continued support of the show, the Langeneger family for their yearly award, and to the jurors. For those who weren't able to attend the show, stop by the art hallway to see some fantastic art!
Also, come to the Manatee Performing Arts Center Monday, April 10 from 5-7pm for the Visual Arts Conservatory Distinction Candidates Show for some more amazing work!