Campus Christmas traditions
Let's go walking in a winter wonderland as we explore the multitude of holiday events the Saint Stephen's community participates in this December!
December is here and the holidays are upon us! As the month of December progresses, the Saint Stephen's community is celebrating the holiday season in a multitude of ways, from the Fledglings to the Seniors.
So let's go walking in a winter wonderland to uncover all the colorful events that will take place in the next couple of weeks on campus.
Starting with our youngest Falcons, the Lower School participates in the longstanding 'Lessons and Carols' tradition. Every single LS student will contribute something to this performance, whether they're a reader, performing a song or a skit, or acting in the nativity scene. This performance takes place in Christ Church.
But these Falcons spread the joy of the season to more than just the Saint Stephen's community. They also sing carols for the Chamber of Commerce at the Manatee Performing Arts Center and then perform in front of the Mayor's office.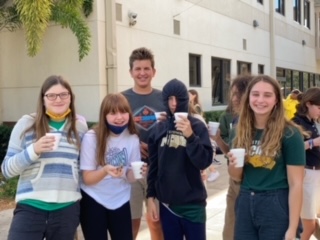 To close off the Holidays, there is a pajama day, ornament creation, and cookies and hot chocolate.
Moving up to the Intermediate School, the 4th-6th graders start the week off with an ugly sweater day. The students then vote on which teacher has the ugliest sweater to be announced at the Jingle Bell Jam. 
What is the Jingle Bell Jam, you ask? Well, it's the IS holiday performance. Here, the students can show off their band, strings, and ensemble singing skills with Christmas carols and the like. 
And there's no shortage of cheer in the Middle School either. Middle schoolers start off their holiday traditions with the annual 'Tree Trimming Celebration,' where every middle school student brings in their favorite ornament to hang on the tree in the MS commons. Much like the Upper School, they also have a door decoration contest between advisories.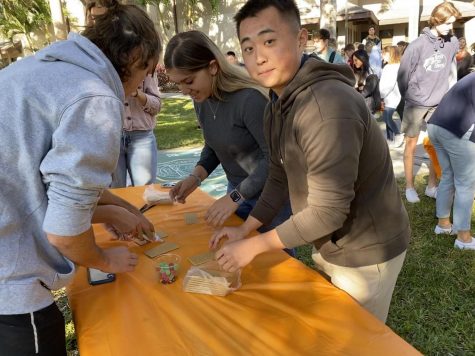 And, as is a common factor among all divisions, the MS's own holiday concert takes place in the Palm Courtyard. 
Lastly, the Upper School contains a whole host of cheerful activities to get you into the seasonal spirit. From Christmas Candy-grams and poems, to an Ugly Christmas Sweater day, to the festive door decoration contest, to the gingerbread house competition, high schoolers have a lot to be excited about. 
And who can forget Tidings and Tinsel, where the Upper School Band performs a festive collection of everyone's favorite holiday songs?
All in all, it seems that St. Stephen's is being transformed into a veritable winter wonderland this season.
1