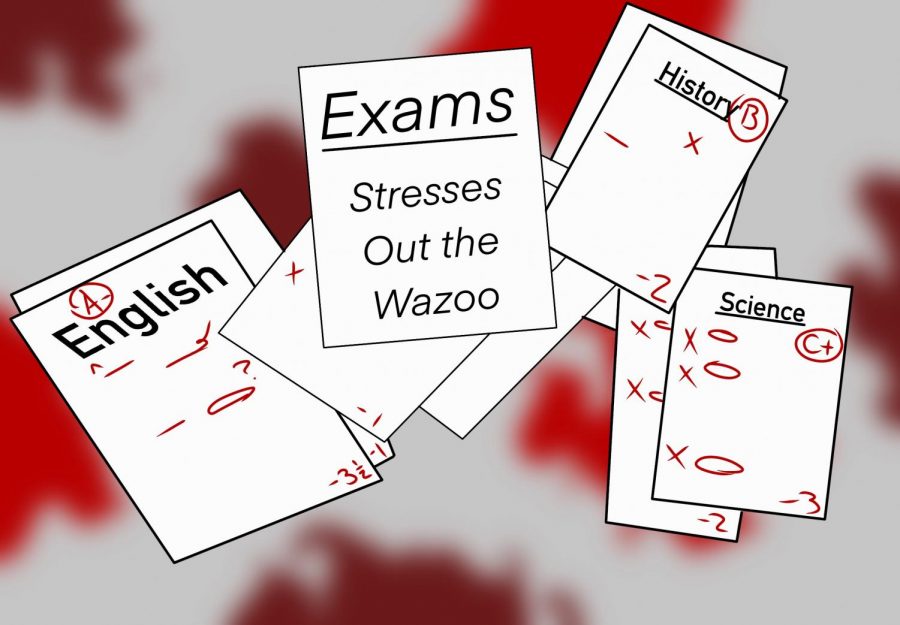 It's finally December, and with the holidays fast approaching, it may seem like the most wonderful time of the year.  But no, it's exam season. Most teachers give a midterm exam for students, which counts as 20% of the semester grade. Some of us have been around the block before on exams, but with virtual school and other COVID restrictions, there are more questions than ever floating around.
But that's why we're here, guys. Here, at the Gauntlet, we're going to demystify exams and make sure you are ready. 
Looking at SSESOnline, under groups and then Upper School, you can find the schedule for midterms. There, you can find which date each class has their test. Usually exams are two hours long. In general, history is this Friday, with English 9, Marine Science and languages on Monday. Tuesday is reserved for sciences; Wednesday is for math; and Thursday for English. Please check your schedule to find your times, rooms, and proctors.
So, show up at school well-rested, study hard, eat a good breakfast, and finish strong. Good luck and see you in January.
Except wait. This isn't a normal year and boy, it won't be a normal exam season. Many students are virtual, and there's a concern about what happens if a lot of students are quarantined.
So, I talked to Mrs. Conn to learn what exam season will be for our virtual friends. Virtual students can choose if they want to come into school to be tested or make a "setup with two devices" so that their workstations are visible when testing (as in, have a phone "zooming" what you're doing on the test device).
Mrs. Conn's parting wisdom was that it's never too early to start preparing for exams, so what are the best ways to prepare for exams?
The Princeton Review helps students of all ages study for standardized tests and they have a couple of tips for students on exams. Organization is key. Know what's on the test and when you'll have class review sessions. All of this week for us is going to be blocked off for exam review, so ask your teachers for practice worksheets and study guides.
Remember, as you study, find the way that works best for you. Flashcards work well for some, but not for others. Some people like studying with friends. Others like to make a memory palace.
Exams are stressful. Make sure you take breaks and get plenty of sleep. Mrs. Conn mentioned that "it's never too early to get ready for exams." So, buckle up, study smart, and maybe your exam scores will be an early Christmas present.