StuCo Coin Wars ends Wednesday at 3pm
This Wednesday at 3pm, the student body will converge in the Palm Courtyard to witness one of the more lively events of the year: the culminating pie ceremony that marks the end of the Coin War fundraising event.
Hang on for a minute...we're trying to find some more stories you might like.
After a tireless week of collecting money to raise funds for the end-of-the-year Busch Gardens trip, Student Council members are ready to go on to the next phase of the Coin Wars: the pieing ceremony.
Coin Wars is a week-long fundraiser held by StuCo where members walk around the hallways collecting coins from peers. Council members tend to use empty milk jugs, which rattle audibly in the halls, and they decorate them to make the jugs more appealing.
The incentive to donate money, other than generally supporting student-sponsored events, is the opportunity to pie a member in the face on Wednesday.
There are three different tiers of incentives in the Coin Wars:
$50 raised – StuCo member get pied in the face
$100 raised – a surprise guest gets pied (teacher? staff? could be anyone!)
So far, senior Cade Westberry and sophomore Julianne Dunbar are leading in the race to raise money.  Be sure to head to the Palm Courtyard after the bell on Wednesday.

About the Writer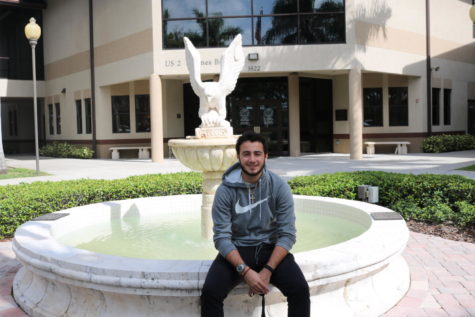 Mark Gharby, News Editor
Mark Gharby joined The Gauntlet for the 2018-2019 year. He is passionate about soccer.