Junior class's 'Little Libraries' project approved
Last week, juniors pitched a class-driven community service project to build "Little Libraries" throughout the community.
This year, the Saint Stephen's junior class is spreading their generosity and kindness with a new, class-driven community service project.  In the coming year, the juniors will construct and deliver "Little Libraries" to promote literacy. The book houses, which will be built by the students, will be installed at select spots throughout the community.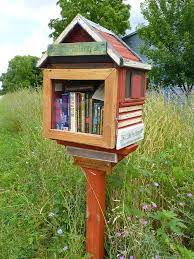 The Little Libraries, which are designed to be small, colorful houses for books, provide a place for locals to borrow and donate books.The objective of this community service project is to increase literacy and a love of reading in local communities.  
While the locations of these Little Libraries are yet to be determined, popular locations like McKelvey Park, Lewis Park, and a site near Ballard Elementary are likely contenders. 
The way the project works is that each junior class advisory is responsible for a specific task in the undertaking.  
For example, Dr. Rachel Ward's advisory will be in charge of the fundraising. They will host an "ugly christmas sweater day" where students will pay $2 on December 9th. Mr. Hoonhout's advisory will participate by collecting and organizing donated books. 
The juniors will spread word of the book drive via social media, and classes will be incentivized to donate Finally, Mrs. Cheri Cotton's advisory will be in charge of restocking the book houses as time goes on, and they will be responsible for rotating and restocking the little libraries.  
Team members started planning this endeavor by creating a guide to building the libraries, with details, including measurements, tools, and materials. 
If there happen to be any extra funds, they will be used for decorations in order to beautify the book houses, making them more attractive and outstanding. 
In the end, around the community, there will be a total of four Little Libraries, decorated, and filled with enchanting books. 
Regarding the coming project, junior Caylin Kitchner said, "I think it's a really good idea that will be beneficial for a lot of people and will be good for our community."
1