Neera Tanden: How Tweets cost her career
Neera Tanden's withdrawal from consideration to head a government agency leads us to wonder: What went wrong?
It seemed like Neera Tanden's career was finally peaking. After years of wandering around in Democratic politics, working for think tanks and the Clinton family, her experience with the think tank Center For American Progress would finally land her at the top: a nomination to be director of the Office of Management and Budget.
But this isn't a story of success. This isn't a story of the daughter of immigrants from India finally achieving a high level governmental post because Tuesday evening, Neera Tanden withdrew as the nominee for the director of the Office of Management and Budget. This is about how Neera Tanden's Tweets cost her her career.
Politics and government are supposed to be about lifting the country up. But the reality of politics is that to win elections, policy battles and the hearts and minds of the country, you must tear your opponents down. And to win partisan battles and prove her viewpoints, Tanden found a new political soapbox, one where she could advance her goals in short and powerful bursts and with messages designed to go viral. She found Twitter.
In Twitter's 280 character limit, Tanden found her voice: an online voice that attacked her Republican opponents and advanced the agenda of the Center for American Progress. She was a loyal Democratic warrior and that was part of the reason President Biden picked her.
However, presidential nomination wasn't all Tanden needed to take the helm of the Office of Management and Budget. She needed to testify before the Senate; she needed to sit and answer questions in the hot seat of the Senate Budget and Homeland Security Committees. And on the other side of the table sat those very Republicans Tanden had attacked in the online Colosseum of Twitter.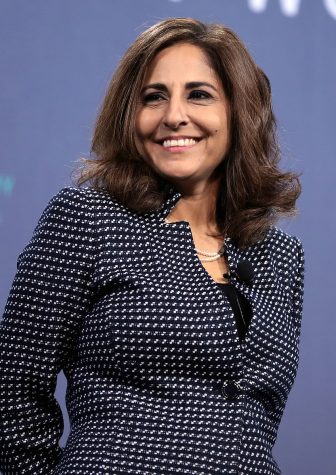 Her most vicious attacks included when Tanden had Tweeted that Senator Ted Cruz had "less heart than a vampire." She compared the most powerful Republican in the Senate, Minority Leader Mitch McConnell, to Harry Potter villain Voldemort. She wasn't just limited to attacks on Republicans but viciously attacked progressive Senator Bernie Sanders and his supporters as well, calling him "everything except an ignorant s***" as Senator John Kennedy noted in a viral moment from her hearing. The Senate is evenly divided between Republicans and Democrats, with the Democrats holding the narrowest majority needed to confirm Tanden and allow her to head the OMB. That all changed when Joe Manchin changed his vote.
Joe Manchin, a Democratic Senator from West Virginia, is no ordinary Democrat. Donald Trump won in his state by almost 40 points but he keeps winning. He is in favor of the coal industry and is supportive of many Republican policies. He gave the Republicans the one vote they needed to sink her nomination because he was sick of the partisan vitriol that Tanden's tweets represented.
However, many noted the hypocrisy of attacking Tanden for her tweets while, for the past few years, letting Trump's tweets slide, many of which were more controversial than Tanden's name calling. Trump fired officials via Tweet, and denigrated the veracity of the election, criticized Jeb(!) Bush for wearing contacts, challenged the mental acumen of President Biden and his own cabinet secretaries as well as calling Grammy award-winning singer Betty Milder "extremely unattractive", all from his smartphone. For many, the double standard was and remains obvious.
Back to Tanden. Now needing a Republican vote, Tanden turned to moderate Republican Senators and Susan Collins. Collins, a centrist from Maine, seemed like a sure bet to vote to support the President's nominee, but oh wait, Tanden had Tweeted that Collins was "criminally ignorant" and "the worst." Collins was a Nay and Tanden's nomination was slipping away. Even worse, Collins was now bashing Tanden for deleting a thousand of her most controversial tweets, believing that she was covering up information that Americans should have.
Now, you may be asking yourself, what do partisan battles over an obscure White House nomination have to do with us? Mainly, the Tanden saga teaches us to beware the perils of social media. Tanden's posts have doomed her career in government and have sent her back to being an obscure think tank leader.
Every time we click send on a Tweet or a Facebook post or an Instagram Story, we need to remind ourselves that everything we post can come back to haunt us later in our careers.
Tanden was lost in her bubble of like-minded people and the dopamine buzz of Twitter likes: her tweets attacking Susan Collins sometimes got over 8,000 likes each, giving her encouragement. She was encouraged by her Twitter followers to push the most controversial opinions. However, once she left her that bubble and entered the halls of Congress, those controversial opinions became the nails in her coffin.
Tanden will not be headed to the Office of Management and Budget. Instead, she will be a martyr in the eyes of her Twitter followers, but also an example for us ordinary Americans. Be careful of what you post online. Avoid being trapped in like-minded bubbles. Some may find little consequence for what we post online, but the Neera Tanden story tells us that our words still matter and that our careers can end with one tweet.
3