Sophomore English tackles the controversial "13 Reasons Why"
Hang on for a minute...we're trying to find some more stories you might like.
Mr. Hoonhout, an English teacher in the Saint Stephen's high school, has added a controversial book to the 10th-grade curriculum this year, Thirteen Reasons Why, by Jay Asher. Thirteen Reasons Why has been viewed by many as a story that portrays an unrealistic storyline where the main character, Hannah Baker, cannot get help for her situation, which ultimately leads to her suicide. 
The novel has won a great deal of praise and many awards, but the subject matter itself, along with 2017 sensationalized Netflix version, have cast a negative shadow over the book.  The novel, however, is a very different story from the dramatic television series.
Thirteen Reasons Why, the novel, received recognition and awards from several young adult literary associations, and the paperback edition reached #1 on the New York Times Best Seller list in July 2011.  It also won many awards from the Young Adult Library Services Association (YALSA), including the Best Pick for Young Adults (2008) and Quick Picks for Reluctant Young Adult Readers (2008).
In the novel, the character Hannah Baker undergoes a series of negative events at the hands of her peers, including bullying, gossiping, destruction of her reputation, and sexual harassment and assault, to name a few, and the story includes the tapes she's left behind for the peers that she feels were responsible for all these actions.
In previous years, Saint Stephen's tenth graders in Mr. Hoonhout's class have read Into The Wild by Jon Krakauer and The Alchemist, by Paolo Cuehlo. Switching these classic novels for Thirteen Reasons Why has changed the class's approach to the semester theme, which is "The Search for Self." The core goal is for students to explore the qualities and nature of "self." 
Mr. Hoonhout felt that the contemporary novel would serve in developing this theme, as it contains relatable, realistic characters and events that connect to students.
While many schools have disagreed with introducing Thirteen Reasons Why into their curriculum because the book portrays, at times, worrisome incidents of bullying, harassment, and sexual assault, Mr. Hoonhout agrees with many lit critics in saying that the books ultimate purpose is to develop an understanding of these dangers, which are prevalent in our schools and society.
Early in the novel, Clay Jenson (the protagonist) receives a box of tapes in the mail that were recorded by Hannah Baker before her suicide.  Hannah was the "new kid" at a big school. 
Early on in her new environment, as a result of lies, gossip, and rumors, her reputation was destroyed.  This eventually leads to "snow ball effect" (a major theme in the novel) that leads to her demise. High school students everywhere can sadly relate to Hannah and her struggle with fitting in at a new school and dealing with these issues.  As the class read the novel, students were struck with a new perspective on these high school issues.   
This book, though some may disagree, can change someone's view on suicide and high school drama.
High school students everywhere tend to spread rumors; it is inevitable. Drama and lies are spread shamelessly, without the thought that someone could get hurt. This novel explains how brutal high school social life can be.
Students who are reading the novel have claimed the book to be very eye-opening and mind-altering. Sophomore Nicky Matheys' point of view was, "I feel like this book can make a difference; I have learned a lot from it, it definitely makes you think about what others could be going through."
Every day, Mr. Hoonhout's tenth-grade class holds a "Harkness discussion" (a student-led roundtable talk) about the chapters read the night before. During these discussions, students build off each other ideas, and students share their ideas on the themes in the novel.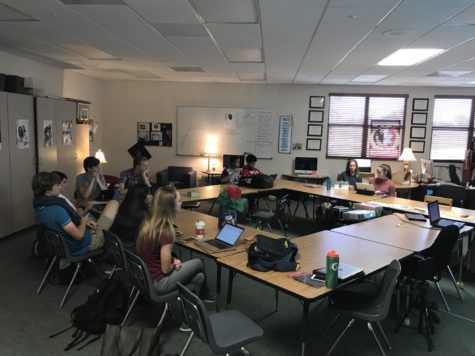 Throughout the novel, students found themselves relating their own experiences to the events in the novel.  There were striking similarities.
For example, sophomore Salina Yathiraj explained what it's like to be affected by double standards: "Especially in today's society, I think that it's really important to understand double standards and their effect on students everywhere, and this novel has really exposed me to that."
Many schools don't get involved with students social lives, and they are unaware of how some students are treated; some schools ignore the fact that students are being bullied. Putting Thirteen Reasons Why into the tenth-grade curriculum helped spread awareness and ways to help recognize students who may be having personal issues.
Mr Hoonhout's sophomore English class began 13 Reasons unit by discussing the difficult realities and statistics on depression, sexual assault and teenage suicide (the second-leading cause of death among school-age youth.) In 2013, 17% of our nation's high school students seriously considered suicide, and 8% made an attempt" (this is a shocking statistic, yes, but it is true according to the American Psychological Association and various other sources).
Teenage suicide is a serious subject that many people would rather avoid. Thirteen Reasons Why confronts the issue, and it is important for all high school students to be educated on the subject.